Take a tour to one of many fabulous destinations provided by our partners from Wild Rover Tours, Rail Tours Ireland First Class and Paddywagon Tours.

Wild Rover Tours
Wild Rover tours provide trips to many of Irelands top destinations. Take the hassle out of travelling, sit back and enjoy stunning scenery, great craic and the very best places to eat and drink. From the Cliffs of Moher to The Giants Causeway and beyond. Discover history, folklore and great storytelling from experienced drivers. Prices start at €35 per adult. Visit the WildRover website for more information.

Paddywagon Tours
Paddywagon Tours have been showing tourists around Ireland since 1998. Paddywagon is renowned for their great value, brilliant quality vehicles and excellent guides. They cater for all customers from children to seniors and welcome visitors from all over the world. Whether you're from Killarney or Kentucky you're guaranteed an informative and enjoyable experience. Visit The Giant's Causeway, the Ring of Kerry, Cliffs of Moher, Killarney, Blarney Castle and many more with Wi-Fi as well as comfort guaranteed on their buses.
Click to visit the Paddywagon Tours website and book your tickets. You can also book your Paddywagon Tour with all leading hotel concierges and youth hostel reception desks as well as at all Official Irish Government Tourist Offices.

Railtours Ireland - First Class
Take a rail tour around Ireland to one of the many destinations offered by our partners in Railtours Ireland First Class. For more information visit our Rail Tours Ireland page.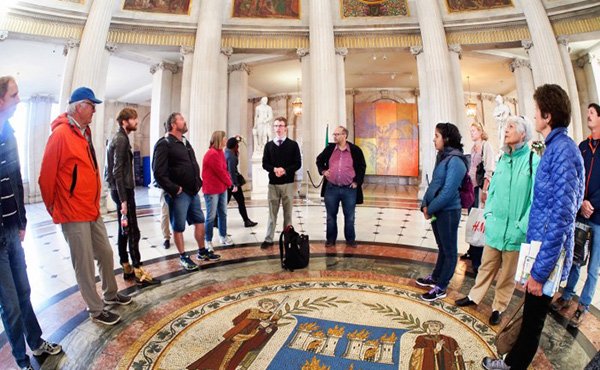 Pat Liddy Walking Tours
If you're happy stay in the capital city, then why not take a walking tour with our partner Pat Liddy. See all the places the bus tour can't take you. For more information visit our Pat Liddy Walking Tours page.