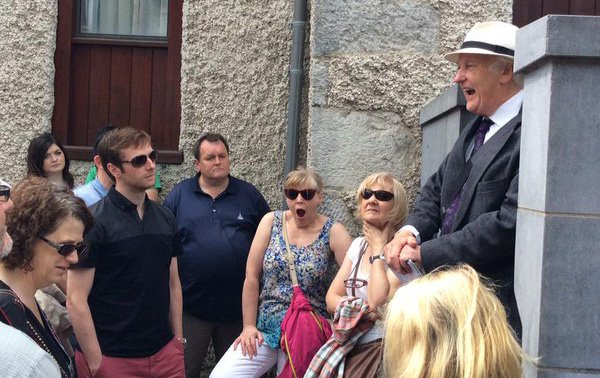 Walking Tours of Dublin
Explore Dublin's sights with friendly and knowledgeable local tour guides on some of the best walking tours Dublin has to offer. We have teamed up with Dublin's best rated and most popular walking tour to allow you experience the culture and history of Dublin, and the stories and secrets of Ireland's capital city.
Uncover Hidden Dublin On a Walking Tour
Delve into the history of Dublin with leading passionate tour guides who will bring you on a leisurely walking tour around the city's most popular sites. Along with famous spots like the Dublin Castle and Trinity College, you'll see historic buildings such as the General Post Office, Shelbourne Hotel, and Christ Church Cathedral. Weave through old hidden alleyways, lanes and cobble streets where the past comes alive as you hear fascinating stories of Dublin's origins from your guide.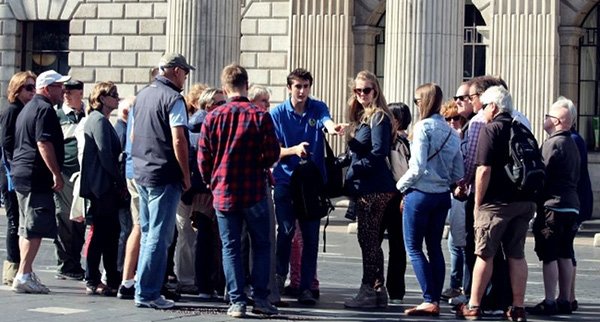 Pat Liddy Walking Tours
We have teamed up with Pat Liddy Walking Tours - Dublin's best walking tour company. Offering a selection of comprehensive tours around the city, Pat's (and his team's) knowedge of Dublin's streets, buildings, characters, and history cannot be matched. Quality is to the fore for any Pat Liddy tour, and his love of Dublin is so infectious that you'll find you're learning about the city while feeling like you're chatting with an enthusiastic friend. Throughout the year, this leading walking tour company offer a variety of themed walks on offer, covering everything from Literary Tours, tours at Halloween, and tours at Valentines.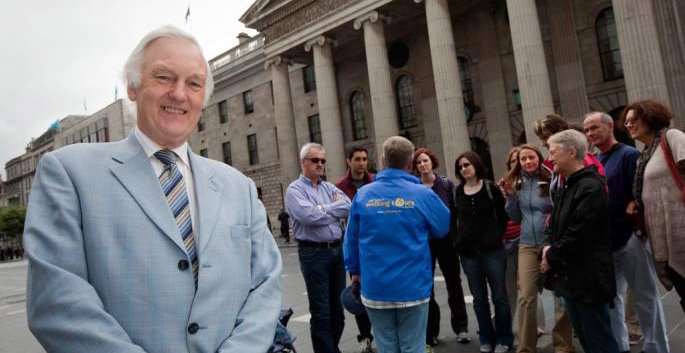 The founder of the walking tours Pat Liddy is a Dubliner through and through. He grew in Phibsborough in Dublin's North Inner City. His love and passion for history and his city began and grew from an early age and strengthened over time. As well as being a terrific historian and tour guide Pat has also tried his hand at journalism and writing. He published a column in Irish newspaper the Irish Times as well as writing ten books!
In 2005 Pat decided to share his great knowledge of the city with the public and founded Pat Liddy walking tours. In over 10 years Pat and his team guides have built up a lot of experience in guiding you around the city which is why it is the perfect way to get additional information on the city and the places where our buses can't go. An experienced historian and writer Pat Liddy Walking Tours are the ideal way if you want to see more of Dublin after you've done your DoDublin tour.
Walking Tours by The Little Museum of Dublin
The Green Mile Walking Tour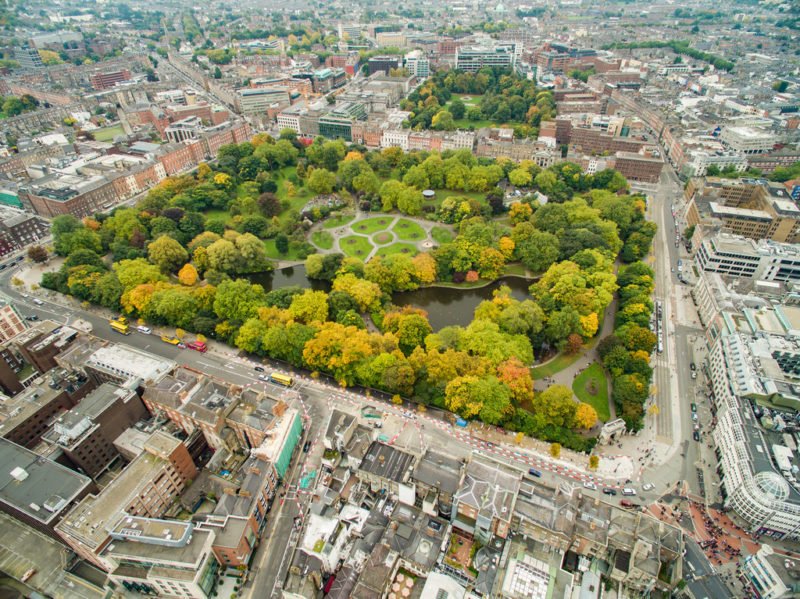 Dublin's Best Museum also have a selection of fantastic walking tours. Their excellent walking tour of St Stephen's Green brings you the story of one of Dublin's most popular public spaces. Every year 8.1 million people walk through St Stephen's Green, but it has also played a key role in Irish history: for example, James Joyce studied on the Green and the Irish Constitution was drafted at the Shelbourne Hotel. This handsome square has long served as a backdrop for public and private drama, as well as the setting for many great love stories.
Writer's Walking Tour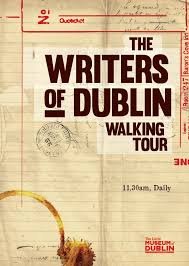 The Writer's Walking Tour, brough to you by The Little Museum of Dublin opens the book on Dublin's lovers, fighters, and occasional writers. Every corner of St Stephen's Green is full of history. The Green has been a gallows and an urban battlefield; it was occupied in the chaos of the Easter Rising; and crucially, it's where famous writers came to relax, to reflect and to compose their thoughts. As a result, they gave us some of the most beautiful words in the English language. On this brilliant new tour of the Green, you will meet some of Ireland's greatest writers.
For the Best Night Out in Dublin City Take the Original Ghostbus Tour
The Best of Dublin Walking Tour
Unlock secrets of south-city Dublin and discover the stories behind the stunning architecture, as well as the iconic events that have shaped Dublinright back to Viking & medieval times.
| | |
| --- | --- |
| Best of Dublin Walking Tour | €13 |
Little Museum of Dublin - The Green Mile Walking Tour
Excellent walking tour of St. Stephen's Green. Discover the stories behind the beautiful park and the central role it has played in Dublin's history.
| | |
| --- | --- |
| The Green Mile Walking Tour | €13 |
Writers of Dublin Walking Tour
Uncover some of Dublin's great literary influences on a guided tour of St. Stephen's Green.
| | |
| --- | --- |
| Writers of Dublin Walking Tour | €13 |