See the final resting place of key Irish figures such as Michael Collins, Charles Stewart Parnell, Éamon de Valera, Countess Markievicz, Maud Gonne, Luke Kelly and Brendan Behan
Visit the iconic O'Connell round tower, and see the O'Connell Crypt
Discover great exhibitions at Glasnevin Museum, and explore the lives of the most influential figures in Irish history.
Glasnevin Cemetery - A Background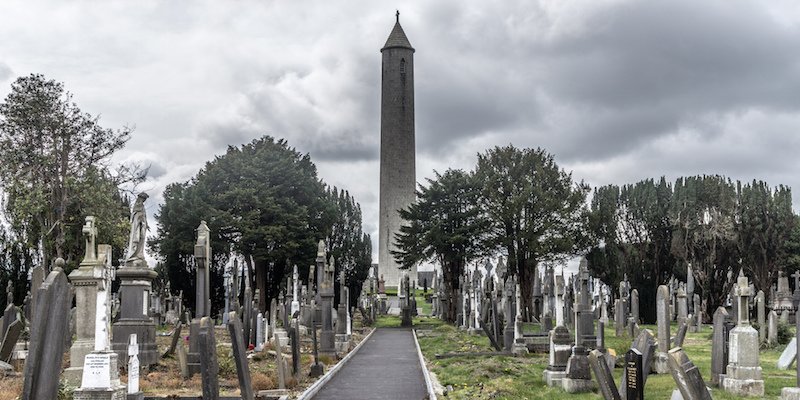 Glasnevin Cemetery was established by legendary Irish statesman Daniel O'Connell in 1832. Key figures from Irish history and culture have been laid to rest within these grounds such as: Michael Collins, Charles Stewart Parnell, Éamon de Valera, Countess Markievicz, Maud Gonne, Luke Kelly and Brendan Behan to name but a few. The impressive site just outside Dublin City spans 124 acres, boasting a vast array of ornate sculptures, Celtic crosses, stunning flowers & trees, and the famous O'Connell Round Tower.
A guided tour is the recommended way to get an insight into all the Glasnevin has to offer. Guides are dedicated and knowledgeable, and their passionate storytelling will ensure that you have a fantastic experience on your visit to Glasnevin Cemetary.
Glasnevin Museum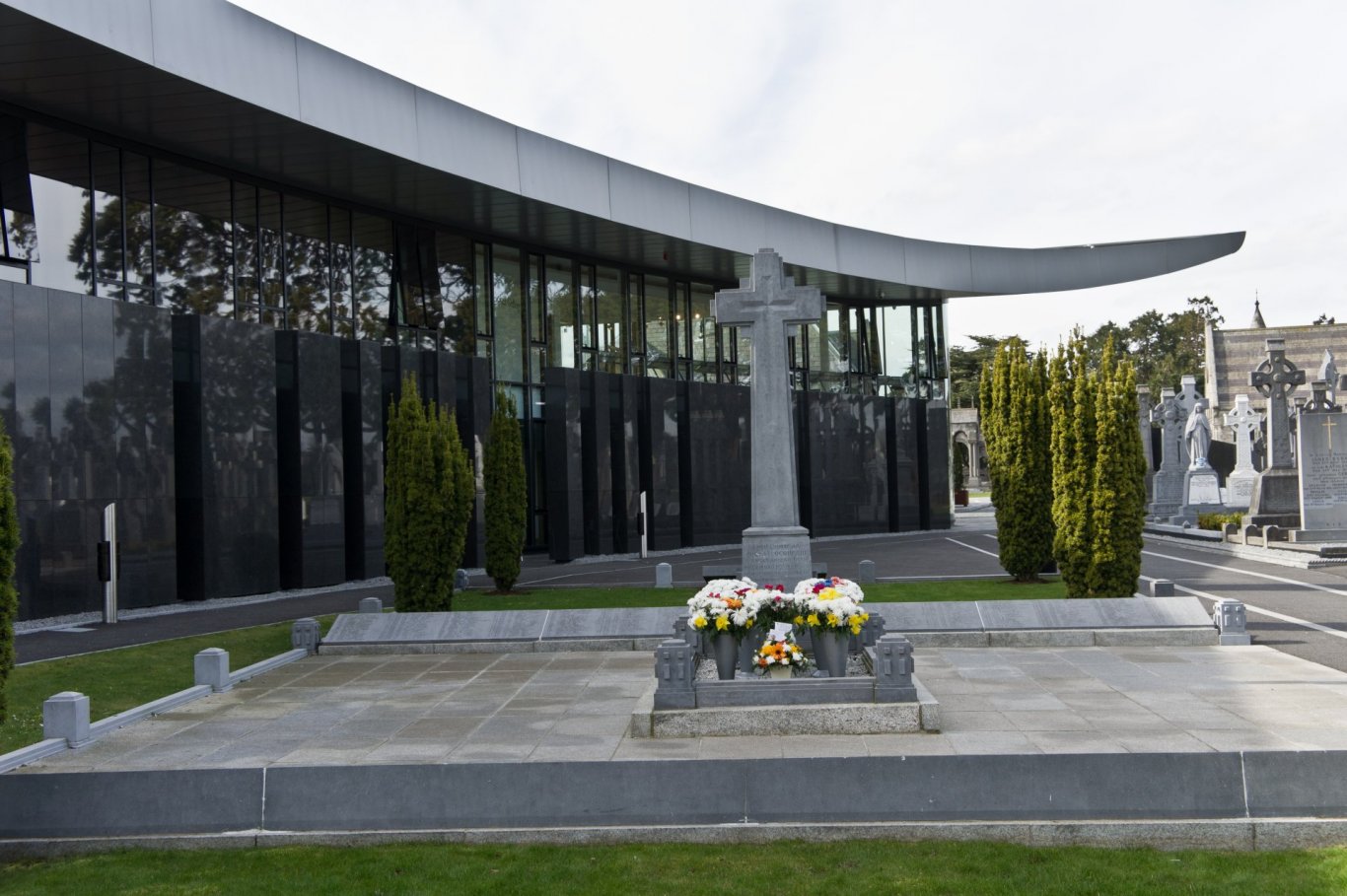 The interactive Museum on site contains award-winning exhibitions including "The City of the Dead" and numerous photographs from the cemetery's history. It is suitable for all ages. You can also search for your family surname in the computer database and possibly learn more about your ancestors.
Dead Interesting Tour
This award winning tour of Glasnevin Cemetery offers a unique overview of the cemetery's varied sculptures, symbolism and architecture. Learn which sporting heroes rest here, hear about the horticulture and natural life that thrives among the dead, and pass the vault that was pivotal in the Irish War of Independence.
General History Tour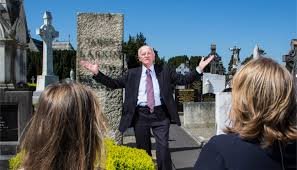 Let your guide regale the tales of colorful souls who shaped Irish history. Ulster Covenant, The First World War, The Easter Rising and The War of Independence will all be unearthed and dissected via enjoyable historical anecdotes. Plus, see the graves of Irish heroes including Eamon DeValera, Michael Collins, Countess Markievicz and more.
The O'Connell Tower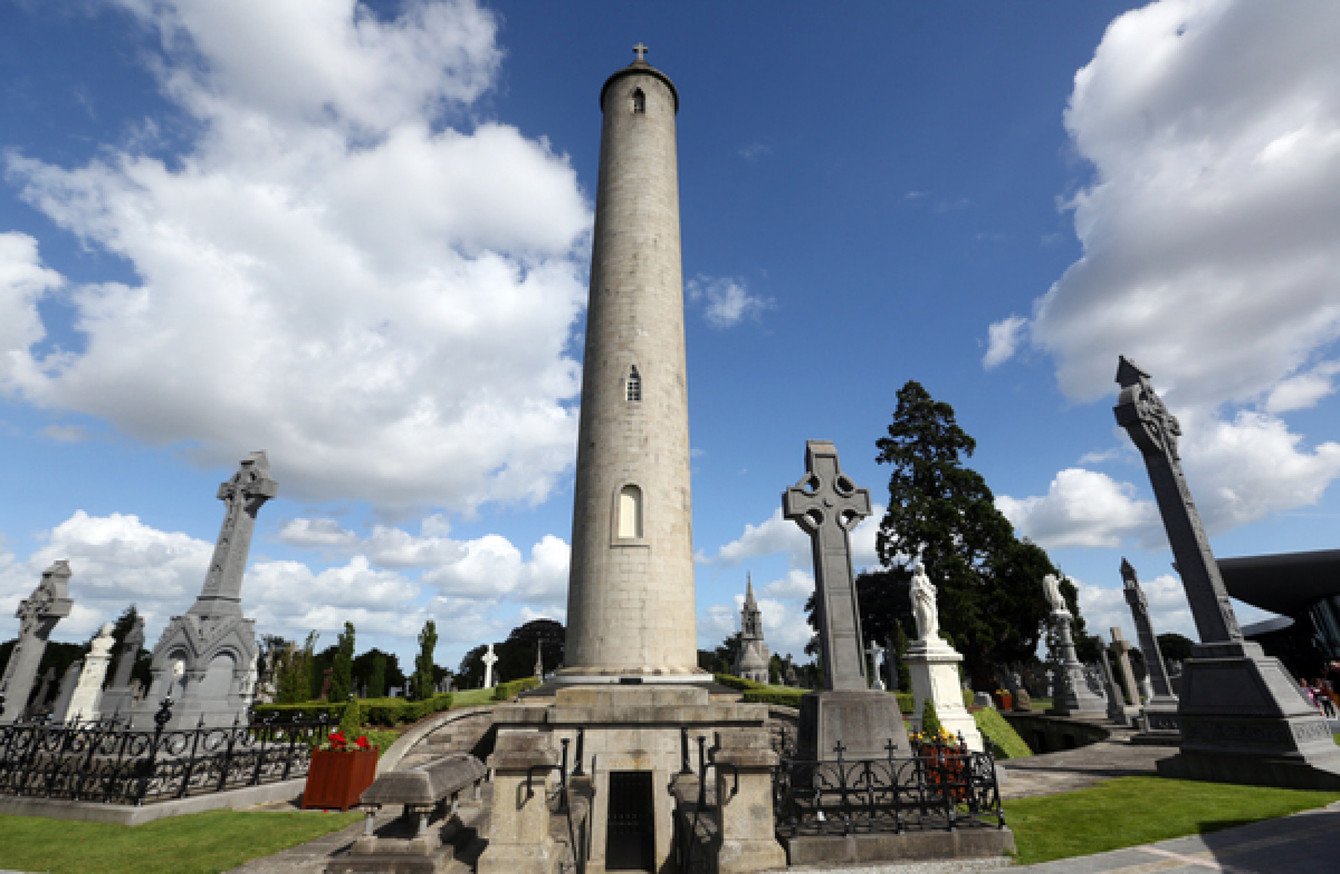 The O'Connell Tower in Glasnevin Cemetery is one of the most iconic round towers in Ireland, and one which offers breath-taking panoramic views of Dublin. The tower can now be explored despite being destroyed by a bomb in 1971 - after a lengthly restoration project. It is Ireland's tallest round tower and stands at 180 feet. Built in 1854, it is the tombstone of the great liberator, Daniel O'Connell, who lies in an ornately decorated family crypt at the base of the tower.
Glasnevin Cemetery Museum Tickets
There are many ticket options available for Glasnevin Tickets - including museum / tower / and cemetery tour combination tickets. For full ticket details, please visit the Glasnevin Cemetery Museum website.
Getting to Glasnevin Cemetary Museum
Glasnevin Cemetery is located close the the stunning National Botanic Gardens. Croke Park Museum and Stadium Tour is closeby also.
By Bus
From O'Connell Street, you can take the the 4,9,40,83 or 140 to Glasnevin Cemetery Museum. Visit dublinbus.ie for full details, and to plan your journey.
By Train
There is a DART station in Drumcondra which is a 20 minute walk from Glasnevin Cemetery. Visit Irish Rail for details.
By Bicycle
It's a great idea to cycle to Glasnevin, and you'll get there quicker than some other modes. There is plenty of space to securely park your bike at Glasneving.
By Foot
There are fascinating walking trails to follow if you plan on walking from Dublin City. Visit Glasnevin Museum's website for full information.