A Dublin Treasure
The Old Library and the Book of Kells Exhibition is a 'must see' for visitors to Dublin. Located right in the heart of Dublin City, and in the country's oldest university, a walk through the entrance archway and the cobbled stones of Trinity College Dublin will bring visitors back to the 18th century.
Though best known for the Book of Kells, the library also houses the Book of Durrow, the Book of Armagh, the oldest surviving harp in Ireland and many other interesting antiquities.
Book of Kells

The Book of Kells is world famous. Written over 1000 years ago, it contains lavishly hand decorated copy, in Latin, of the four gospels. It has long been associated with St Colum Cille (c 521-597 AD) who founded his principal monastery on the island of Iona, off the west coast of Scotland, in about 561. The Book of Kells was probably produced early in the 9th century by the monks of Iona, working wholly or partially at Iona itself or at Kells, County Meath, where they moved after 806 AD, when Iona was attacked by Vikings.
The Book contains the text of the four Gospels, handwritten in beautifully worked calligraphy and decorated with amazingly intricate drawings and embellished letters in coloured inks and dyes. It is the best known of a group of Irish 'illuminated manuscripts', including the Book of Durrow, the Book of Leinster and the Book of Armagh which you will also see during your visit. The intricate and colourful detail of the drawing and decorations is part of the magic of the Book of Kells.
The monks worked with the material they used – produced from animal skins – incorporating flaws or hair follicles on the vellum into the illuminations so that they become part of the decoration.
Trinity College Library - The Long Room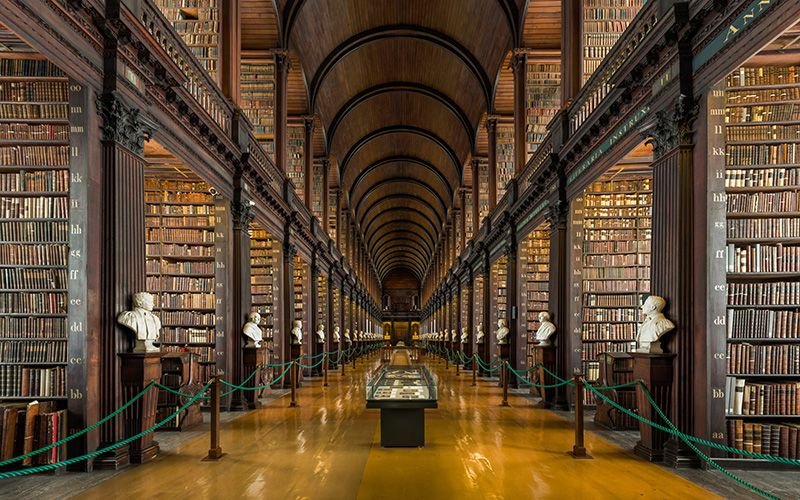 The Old Library is the part of Trinity which attracts most visitors and with good reason. The Long Room was completed in 1793 is a wonderful place of high gilded ceilings and arches, and huge oak bookshelves with more than 200,000 old books and other treasures within its walls.
The main chamber of the Old Library, the Long Room, is stunning. It is nearly 65 metres in length, and houses around 200,000 of the library's oldest books. Marble busts are placed down either side of the room - a collection which began in 1743.
Tickets for Book of Kells
You can buy tickets for the Book of Kells and Long Room library from Trinity College Dublin's website.
Getting to The Book of Kells
Trinity College Dublin is situated in the heart of Dublin's city centre. Trinity College's central location makes it highly accessible for all forms of public transport, and most Dublin Bus routes would pass close to the University, as well as LUAS , and the DART line.